C M B V P A R E N T / S T U D E N T R E S P O N S I B I L I T I E S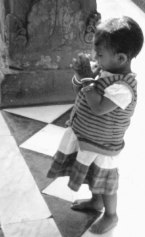 "Children are not vessels to be filled, but lamps to be lit. Children are the architects of the future world. They are the builders of humanity. It is the most sacred task of parents as well as teachers to mold their lives in accordance with the sublime Indian tradition. The seeds of spiritual values should be sown in young hearts and the condition should be made favorable for its sprouting and steady growth by the exercise of proper control and discipline. Cared for with the warmth of love and affection, such a tree shall blossom forth flowers of brotherhood, universal love, peace, bliss, beauty, and perfection." - Pujya Gurudev Swami Chinmayananda
Dear Chinmaya Bala Vihar Parents,
Hari Om and welcome to another wonderful year of Chinmaya Bala Vihar (CMBV)! Please help us share with our children the Vedantic scriptural teachings and traditions taught by our ancient rishis. Please read and print this page, and keep it in your child's CMBV notebook.
Our sevaks lovingly encourage our children to strive to reach their highest potential in every field, and support their every spiritual endeavor to grow. We have seen our community's children blossom beautifully over many years, and we are honored and proud to be growing with them in love, learning, and laughter.
STAY INFORMED: Our website features the year's calendar of classes and events. E-mails and website postings are our primary mode of communication with you. Stay updated by visiting the website regularly. Be sure to mark chinmayaprasad.org and chinmayamission.org as Safe Senders in your email account.
TAKE AN INTEREST: Spend time to ask your child what he is learning and have him to discuss each week's materials. It makes for great dinner conversation and most importantly, encourages and inspires your child to continue in his growth. Commend him for his knowledge and remind him to practice noble values. This will help him strive for excellence in all aspects, at all times. Maintain high standards and proper discipline, for your loving care and attention are invaluable for your child's continued interest, participation, and growth in spiritual, cultural, and value education.
ATTEND THE SPECIAL EVENTS: Each year, all our sevaks put in tremendous effort to organize festival celebrations and special events for all of us to pray, learn, and enjoy together. For each event, we send out an e-mail or e-vite. We request your attendance and prompt response so we can plan (venue, food, parking, seating, materials, gifts, etc.) for the event as needed. By the Lord's grace and Pujya Gurudev's blessings, we look forward to another wonderful year of CM classes and activities.
PRINT: Read and print this page and the CMBV Calendar. Save the dates now for all CMBV and CM events (see our Events Calendar). Updates/Changes will be posted on these pages and announced via e-mail. By the Lord's grace and Pujya Gurudev's blessings, we look forward to another wonderful year of CM classes and activities.
CMBV Parents' Agreement for Contact Information and Waiver of Liability:
By registering for Chinmaya Bala Vihar, I hereby give Chinmaya Mission Tampa sevaks permission to contact me/my child via email, phone, or mail for the purpose of communicating Chinmaya Mission related announcements or matters.
By registering for Chinmaya Bala Vihar, I, for my heirs, executors, and administrators, release and forever discharge Chinmaya Mission and the city, county, state, and district where Chinmaya Mission classes and events are held, and all sponsors, producers, agents, representatives, successors, and assignors, of all liabilities, claims, actions, damages, costs, or expenses that I or my family may have against them arising out of, or in any way connected with, my family's participation in Chinmaya Mission classes and events, and including injuries that may be suffered by me or my family before, during, or after the classes and events. I understand that this waiver includes any claims based on negligence, action, or inaction of any of the above parties.
By submitting my child's registration, I agree and accept all of the above.
---
Chinmaya Bala Vihar (CMBV) Motto: "Keep smiling!"
CMBV: Children in Grades PK-12
· To inculcate in our children and youth a reverence for our ancient culture, and inspire them to live up to it with correct understanding
· To create self-confidence so they are able to serve and act cheerfully
· To generate personal discipline, dynamic leadership, and true affection in all their contacts
· To mold their capacity to brilliantly express their individuality
· To bring out their dormant faculties and detect defects so they can cultivate and improve their creative abilities
· To help our children and youth develop a healthy resistance against temptations in the atmosphere in which they grow
· To provide an atmosphere of growth that is filled with noble ideals, healthy emotions, and physical discipline.
Chinmaya Yuva Kendra (CHYK) Motto: "Harnessing Dynamic Youth Potential"
CHYK: Youth, University Students, and Young Adults, Ages 18-28 years (Junior CHYK: Ages 15-17 years)
The purpose of CHYK, as given by Pujya Gurudev, is to harness dynamic potential. Gurudev said that today's youth are not useless; they are used less. And that youth are not careless; they are cared for less than they should be. CHYK strives to unite youth and young adults by providing a forum to explore, discuss, and practice Vedanta while strengthening their lives in every endeavor. The objectives of CHYK include:
· To provide a spiritual forum and introduce the philosophy and message of Vedanta
· To unite members spiritually and professionally through satsanga and community service
· To build and develop future leaders
Chinmaya Adult Study Groups
Chinmaya Mission Motto: "To give the maximum amount of happiness to the maximum number of people for the maximum amount of time"
Inspired by the vision of Vedanta, thousands of spiritual seekers across the world meet in groups to study and discuss Vedantic texts. Over the years, we have found that all parents who chose to study with their child, to gain spiritual knowledge for themselves, and not only their children, benefited most from Chinmaya Mission's classes and events. The motto of studying together, learning together, and growing together has never been more true or apparent in such families. We welcome all our parents to join the free Chinmaya Study Groups that are open to the entire community.

Disclaimer: Chinmaya Mission [CM] is not affiliated with or endorsed by the School Board of Palm Beach County [Board] or Logger's Run Middle School [School], and the events of activities hosted by CM on School premises pursuant to a lease agreement shall not be construed as being conducted, funded, hosted, or sponsored by the Board or School on behalf of CM. The Board and School undertake no responsibility for supervising or monitoring CM's events or activities, and will not be liable for any and all actions of CM on School premises.